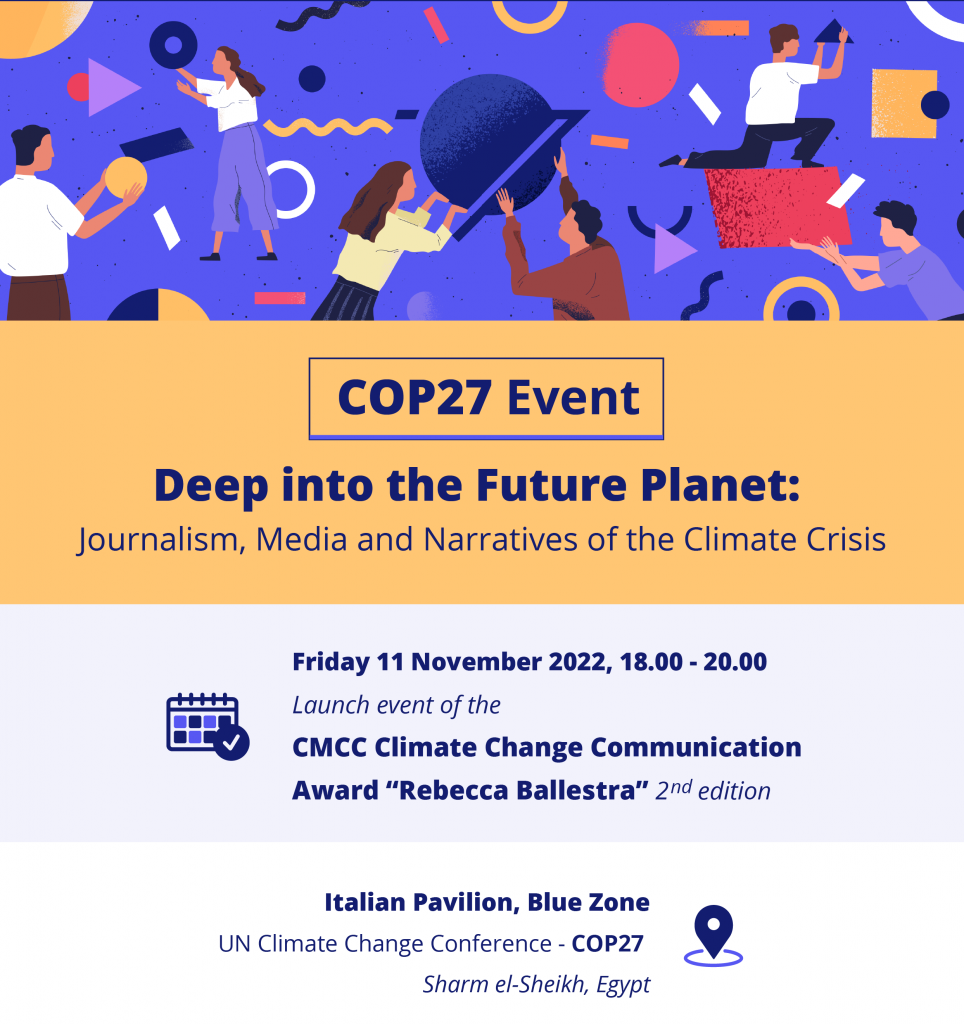 Words, data, pictures: how to inform and engage the public? How to increase public awareness of the climate crisis?
CMCC launches the second edition of the international climate change communication award – named after artist Maria Rebecca Ballestra – with a global dialogue among experts, journalists, and media professionals at COP 27.

By focusing on examples of climate communication, including journalistic investigation, science journalism, podcasts, magazines, networks, gaming and digital editorial initiatives, CMCC invites authors of local and international projects in the field of climate communication to join the CMCC Climate Communication Award – Maria Rebecca Ballestra – network.
The event
"Deep into the Future Planet: Journalism, Media and Narratives of the Climate Crisis" 
will be held on Friday 11 November 2022, h. 18.00 – 20:00 at COP27, Sharm el-Sheikh, Egypt | Italian Pavilion, Blue Zone.

SPEAKERS
Leo Hickman– Editor in chief Carbon Brief
Elisabetta Tola – Radio3 Rai, author of the podcast "Foresight. Deep into the Future Planet"
James Fahn – Executive Director Earth Journalism Network
Rehab Abdalmohsen – Science journalist and water reporter
Ione Anderson – Co-Founder Grape ESG
Emanuele Bompan – Editor in chief Renewable Matter
Mauro Buonocore – CMCC, Head of Media and Communications
Alessandra Mazzai – CMCC, Coordinator Climate Change Communication Award
Selvaggia Santin – CMCC, Coordinator of Change Game